Brenda Hill Visits Restaurants in the Inland Empire



12/20/07
The Cuisine Scene
Brenda Hill


Napoli Italian Restaurant
Loma Linda, CA


While I enjoy most cuisines, I feel there's something special about Italian food. Spaghetti, for instance, makes me think of friends and family gathering around a table, relaxing and having fun while sharing a meal, sharing part of their lives.
Perhaps it gives me the warm fuzzies because of the fond memories the dish evokes, as it's one of the easier and less expensive dishes to prepare for several people and was frequently on the menu when I was a young married woman raising my son. But no matter the dish, the combination of pasta, tomato sauce and cheese makes the perfect comfort food.
We have some wonderful Italian restaurants in the Yucaipa/Calimesa area. I know because I've tried them. After moving here, I read Bill Irvine's reviews and also explored on my own.
However, I love to venture out and try new places, so I decided to visit Napoli's in Loma Linda.
From the moment Sheila and I pulled up to the restaurant, we felt the experience was going to be a treat. Arriving around five in the evening, we were able to park directly in front of the building, and the green canopy covering the entrance provided a welcome shelter from the drizzling rain.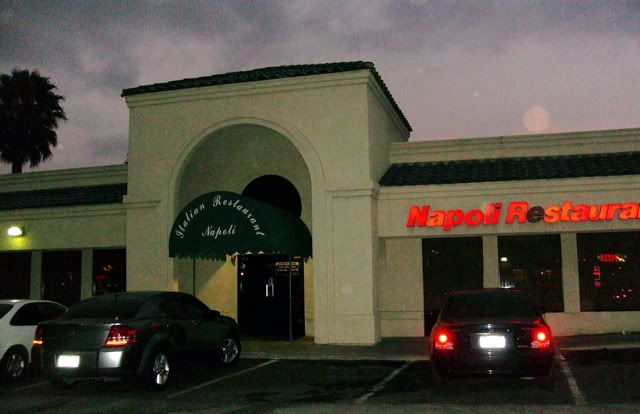 But when we entered the lobby, we knew we were in for a special evening. If a place of business can be elegant, yet cozy at the same time, that's how I'd describe Napoli. So many delights greeted us: Light-colored tiled floor, white columns supporting arches over wine racks, brocade side chairs, statuary, live plants and potted flowers, and all accented with soft lighting and a Christmas tree. Even more alluring was the waft of garlic in the air. Even that delicious aroma seemed soft, as if enticing instead of extreme.


Jesse, the host and our server, seated us in one of the three seating areas. Linen tablecloths decorated the tables and booths, and more bottles of wines stood in groups in front of mirrored walls. Additional greenery and statuary accented the white wine racks, and everything blended to provide a lovely atmosphere to relax and enjoy a meal.


While snapping photos, I met Santokh, the tall, slim owner, who told me he'd worked in a restaurant in Germany before immigrating to the United States. Originally from India, he loved Italian food and opened Napoli in 1994.
Serving lunch and dinner, the choices were extensive. And exotic. I wasn't familiar with many of the dishes offered, but I suppose that's not unusual, especially since I'd moved from a small Minnesota town where Lutefisk, whitefish preserved in lye, was a delicacy. While I consider myself adventuresome, there are some dishes I approach with caution.
Not so at Napoli. From their antipastos to salads, from pastas to baked dishes, I was eager to try as much as I could. But with the selection so vast, how could I choose? Jesse was gracious enough to explain some of the dishes and make suggestions.
For an appetizer, he talked to Sheila and me to discover our likes, so he suggested bruschetta for me and crab cakes for Sheila. Bruschetta, sliced toasted bread topped with fresh tomato, garlic, oregano, basil and olive oil, is available with fresh mozzarella cheese. Regular is $6.95. I ordered mine with the cheese, alla Napoletana, for $7.50.
The deep fried crab cakes are served in a brandy gorgonzola sauce for $8.50.
Our garlic bread arrived and of course we had to munch. No grainy powder for Santokh; the fresh garlic flavor was an enhancement instead of overpowering.
When the appetizers arrived, Sheila and I shared. Whatever concerns I had evaporated when I bit into the bruschetta. Somehow, the toast remained crispy underneath the moist toppings, and the delicate flavors of tomato, cheese, oregano, and basil blended beautifully with the toast. I could have made a meal out of the appetizer, but I wanted to taste the crab cakes and save room for dinner. As with the toast, the crab cakes retained their crispiness in the sauce and were delicious.
Four more pages on the menu offered dinner choices from pastas such as spaghetti with marinara sauce, meat sauce with mushrooms or meatballs or sausage, to fettuccine several different ways, ravioli, and linguini, with prices ranging from $12.50 for the spaghetti to $21.50 to the Linguini Pescatore with shrimp, calamari, scallops, clams, mussels, salmon and garlic for $21.50. Dinners include soup or salad and garlic bread.
Vegetarian dishes are offered as well as veal, lamb, seafood, chicken, and a selection of bakes dishes including lasagna, ziti, and manicotti, and those dishes range from $12.50 to $22.50 for the seafood.
Grilled rack of lamb with Chianti wine sauce, and filet mignon sautéed in brandy is available for $24.50, and as with the veal, seafood, and chicken dishes, soup or salad is included, along with a side of pasta and garlic bread.
Sheila ordered eggplant parmigiana, lightly breaded and baked with marinara sauce and mozzarella cheese for $14.50. Even with all the tempting dishes on the menu, I selected the angle hair pasta with shrimp, scallops, salmon, asparagus, tomatoes and spinach, one of the four chef's specials. Another was grilled stuffed salmon with eggplant and mozzarella in a champagne lobster cream sauce.
After Jesse took our orders, he served the romaine lettuce salad.



I didn't think I've have room for dinner, but of course I had to try both selections, even if simply a taste.
When our dinner was served, I was surprised by the generous helpings. My pasta included chunks of salmon as well as shrimp and scallops, and I loved the mixed flavors of seafood with asparagus and spinach. Melted mozzarella covered Sheila's eggplant and a side of pasta accompanied the dish. It was delicious, but either of us could eat more than a couple of bites, but it was worth it.
Then Jesse presented the dessert tray. Oh, my goodness, how could we resist? They had cheesecakes, cappuccino cake, spumoni ice cream and more, but even if I had to waddle out, I wanted to try the tiramisu, a traditional Italian dessert of sponge cake soaked in coffee, mascarpone cheese and chocolate. Sheila and I split a piece, and the light creamy texture was a perfect ending to a wonderful meal.
Thank you, Santokh, not just for a meal, but for an event. What an experience.
Lunch: 11am to 3pm.
Dinner: is 3pm to 9:30pm


Napoli Italian Restaurant
24960 Redlands Blvd.
Loma Linda, CA 92354
(909) 796-3770
From the I-10 Freeway,
Exit Tippecanoe/Anderson in Loma Linda and go South.
Turn Left on Redlands Blvd.
Napoli is the third building on the left.