Brenda Hill Visits Restaurants in the Inland Empire



12/06/07
The Cuisine Scene
Brenda Hill


Royal Falconer British Pub & Restaurant
Redlands, CA
The first time I tried a Cornish pasty was in 1977, in the new Westminster Mall in North Denver. The pasty was about the size of my hand, folded into a semicircle with a crimped edge and stuffed with a savory meat and potato mixture.
Tradition says pasties originated in Cornwall, United Kingdom, made for the tin miners who couldn't surface for lunch. The unique shape of the pasty, similar to a turnover, was perfect for the miners to carry and eat while on the job. Instead of a flaky crust, they were made with a dense mixture so they wouldn't crumble, and they stayed warm for hours. No matter how hungry, though, the miners left a few crumbs to appease the Tommyknockers, underground spirits who knocked on mine walls to warn of cave-ins.
While the pronunciation may vary among dialects, the pie is never called pasty as in paste; instead, it's pronounced with the 'a' sounding like the 'a' in papa.
Unfortunately, the pasty café closed and I hadn't seen one in years. Then, someone told me about The Royal Falconer in Redlands. Happily, I went online and checked their menu, and sure enough, Cornish pasties were listed as well as other English delights such as fish & chips and shepherd's pie. I couldn't wait to visit.
Located on busy Orange Street between Redlands Boulevard and State Street, the pub appeared very British with its white paint and dark woodwork. A United Kingdom flag, fondly called the Union Jack, hung in the window.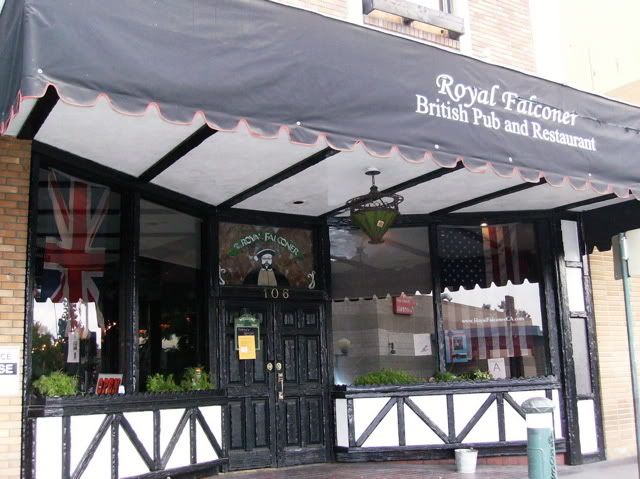 Inside, a long bar ran along one wall and booths offered seating on the other. Rich, dark woods, red bricks and green walls felt cozy and warm. Juston Hermes, the bartender and acting manager, greeted Sheila and me, and Jenny Dibble, the server, seated us, offered menus and explained some of the dishes listed on the three-page menu.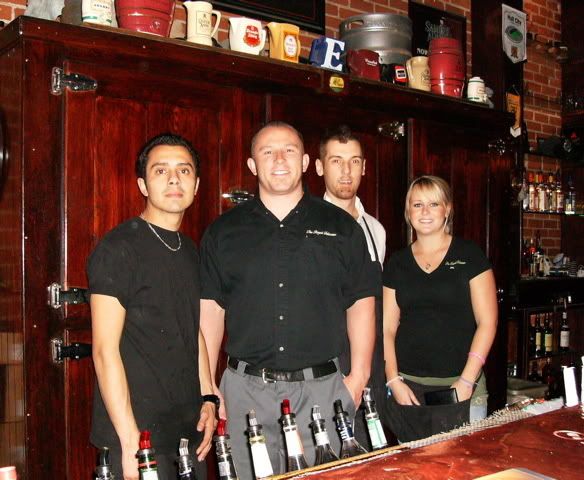 (L-R Junior Gomez, Barback; Juston Mermes, Bartender and acting Manager; Sous Chef Chris Gonzales; Jenny Dibble, server)
Some of the English entrees include shepherd's pie, seasoned ground sirloin cooked in Guinness stout, with onions, carrots, and peas, topped with mashed potatoes for $13.95. Bangers and mash are two British sausages served with garlic mashed potatoes for $12.95. Curry chicken is chicken and sautéed red onion peppers mixed with homemade curry sauce and served over rice for $12.95. A half rack of Falcon ribs are steamed in garlic bay leaves and house ale for $14.95, and of course, the Cornish pasty, described as a flaky pastry pouch stuffed with ground top sirloin, potatoes, and mixed vegetables for $13.95. All entrees are served with fresh vegetables, and choice of mashed potatoes, rice, French fries, au gratin potatoes, or baby red potatoes.
They also have American fare, such as several salads, including gorgonzola Caesar, chef, Caesar, chicken, tuna, and teriyaki chicken salads. Their dressings are homemade, and they have two freshly-made soups each day except Sundays, when they offer one.
Some of the appetizers include Lavosh, a 15" round cracker bread covered with melted cheese, Tandori chicken, which is grilled chicken marinated in Indian spices and fresh natural yogurt for $8.95, curry chips, potato skins, jalapeno poppers, and my favorite, zucchini strips, for $7.25. I didn't try them as I'd selected the pasty for dinner and Jenny told me it was quite a meal.
Their sandwiches include a Falconer club, a special veggie delight, a beef dip and hot corn beef, all for $8.95, served with choice of French fries, coleslaw, potato salad, a side salad or a cup of soup.
Burgers range from a 1/2 pound pub burger, a meatless burger, bleu cheese burger and a lo-carb burger served without a bun, all for under ten dollars.
They have fish tacos made with fresh battered fish, which sound great, but their specialty is fish and chips. Dipped in their homemade beer batter, they're served with freshly made chips (French fries), a side of peas, tartar sauce, and a lemon wedge. They offer halibut or cod, half or full order, with the halibut a little more expensive than the cod. The full order of cod is $14.50, and it's offered with choice of soup or salad.
Another page listed draft and bottled beers and cider, and they have several wines to choose from, ranging from a glass for $5.00 to a bottle of Cabernet Sauvignon for $26.00. They even have ginger ale.
My salad arrived with their homemade blu cheese dressing, and it was thick, chunky, and delicious, with a lighter flavor than most. I loved it. Then our dinners arrived.
My pasty was bigger than the one I'd had years ago, and the crust was light and flakey. The filling was a delicious ground beef, spiced just right so that I could taste the mixture of beef and vegetables. I hadn't had baby red potatoes in a while so I looked forward to tasting them. Tender and sprinkled with rosemary garlic butter, they were wonderful. Mixed vegetables of carrots, broccoli and cauliflower rounded out the meal.
Sheila had the fish and chips and said the fish was crunchy without being greasy. Sous Chef Chris Gonzales explained he makes a special tempura batter for the fish. I tried a bite of her fries, and Chris said he puts the potatoes through a special process to make them crispy.


With twelve years of cooking experience, including the Bellagio in Las Vegas, Chris loves to experiment with different dishes, always looking for ways to make them just a little better. Another of his special dishes is eggs Benedict with his special hollandaise sauce, served on Sundays, usually until 3pm.
Chris sent a dish to the table that he'd just made, similar to an apple tart, and he's thinking of adding it to the menu. Even though Sheila and I felt full, we dug in. I tasted cinnamon, apples, and a special crust that was perfect. What a treat, and what a special way to end a wonderful meal.
The Royal Falconer British Pub and Restaurant
106 Orange Street
Redlands, CA 923973
909-307-8913
Open 7 days from 11am-2am