Brenda Hill Visits Restaurants in the Inland Empire



The Cuisine Scene
Brenda Hill


Wing's Garden Cafe
Banning, CA
One of my favorite childhood memories is getting all dressed up and going with my mother to a downtown movie theater.
How well I remember the lobby with the multi-colored lights, the aroma and sounds of popping corn, the hushed excitement of the carpeted auditorium graced with glistening chandeliers.
Sitting in the balcony, we'd gaze down at the stage and wait for that special moment when the lights faded, the music swelled and the drapes parted to reveal the giant screen. Oh, what wonders to a child in the fifties.
I still love movies, at home and at the theaters, and I make the quick trip to Redlands to see something special. While I love the luxury of the spacious seats in modern theaters, I occasionally head east to the old Fox Theater in Banning. They show some darn good movies and the price of admittance is much lower than other theaters.
Walking to and from the theater, I've often passed Wing's Garden Café on the west side. Friday night I finally tried it and now I wonder why I waited so long. Sheila, my son's future mother in law as well as my friend, accompanied me.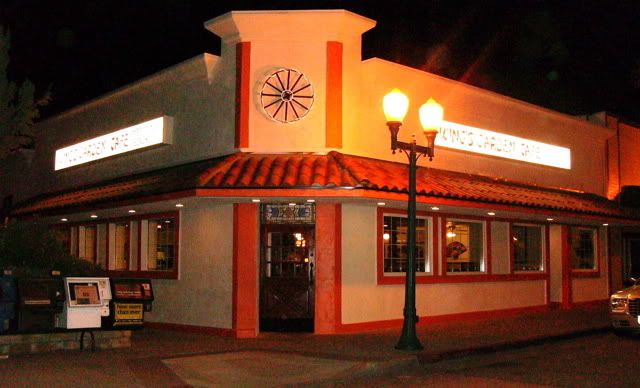 Inside, the café is clean and cozy, with plenty of comfortable booths.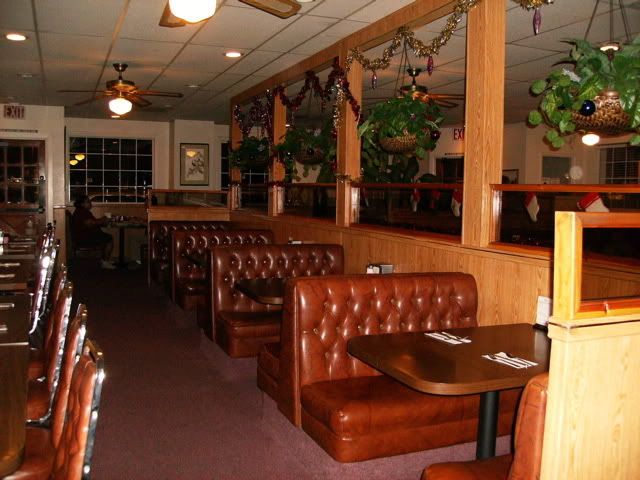 Wing, the owner, greets newcomers and regular customers with a welcoming smile. With over twenty-two years experience in the restaurant business, including working for the Hilton Corporation in Las Vegas, he loves to please his customers and proves it by serving food freshly made to order. Both of his grandfathers had restaurants, and his daughter, Lillian, works with him and plans to one day take over the business. His son, Harvey, is working toward a medical degree, but when they were growing up, Wing insisted they learn responsibility by working at the restaurant.


(Wing, his daughter LIllian, and wife Ming)
Although Wing's offers a varied menu including sandwiches, salads, American food and Chinese, he takes particular pleasure in catering to his customers with health concerns. For those with high blood pressure, he cuts the sodium, and for those with diabetes, he omits sugar. One customer had to lose a significant amount of weight, so Wing worked with him and served a variety of healthy dishes. Before long, his customer dropped the pounds he needed.
I'm not sure I could do it, though. His menu offers such a variety of good things that it seems difficult to limit choices. And his cooks are great.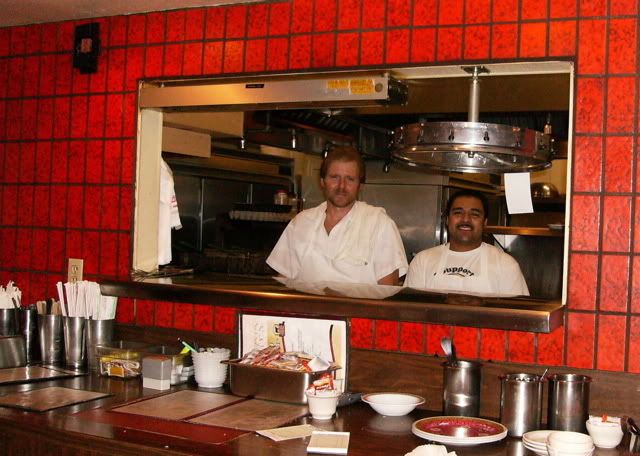 Breakfast is served until 2pm and offers eggs with bacon or sausage for $5.25, 3 egg omelettes from $5.25 to $7.25 for their shrimp. They offer hot cakes, French toast, and one of my favorites, cinnamon toast for $1.75. If you arrive early, between 6am-11am, they offer great specials such as 2 eggs, 2 bacon, hash browns and toast for $4.50, pancakes, eggs & bacon for $4.25.
For lunch, they offer a range of sandwiches, from egg salad for $4.75, to BBQ beef or pork with fries for $7.95. Wing assured me he makes his own barbeque in house and I bet it's delicious. Hot sandwiches include turkey, beef, grilled chicken, NY steak with fries for $8.95, grilled cheese, BLT, patty and tuna melts on rye with fries for $7.95. Some of the cold sandwiches are tuna salad, beef, turkey and ham for around seven dollars.
Salads are mixed vegetable, chicken salad bowl for $5.95, chef's salad for $7.75, and regular dinner salad and cottage cheese with fruit.
Dinner is served daily from 11am and includes soup, salad, and dessert for $8.75. Some of the choices are honey fried chicken, hamburger steak with gravy, roast beef, roast pork, and teriyaki chicken.
They also offer steaks, ribeye for $14.95, an 8oz New York for $$11.95 and grilled pork chops with applesauce for $9.95.
Seafood includes halibut steak for $11.75, jumbo shrimp or deep fried scallops for $9.95, and a Captain's plate of shrimp, scallops and fish for $10.95.
Their Chinese selections include about twenty of their house specialties ranging from moo goo guy pan for $8.85, Kung Po chicken, pork, beef, or shrimp for $9.95, walnut shrimp for $11.95, orange or walnut chicken for $9.95, almond shrimp for $9.95, cashew chicken for $8.95 and shrimp in lobster sauce for $9.95. Steamed rice is served with the specialties.
They also have a variety of fried rice, chicken, beef, pork, shrimp, BBQ pork, and yang chow fried rice.
Sheila and I decided to try the Chinese dishes, but there were so many to choose from that we didn't know where to start. Wing asked what we liked, and we named some of the vegetables, chicken and shrimp, so he said to leave it to him.
Before long, he brought three of most delightful dishes to our table, each piled high with shrimp or chicken and fresh, shiny vegetables.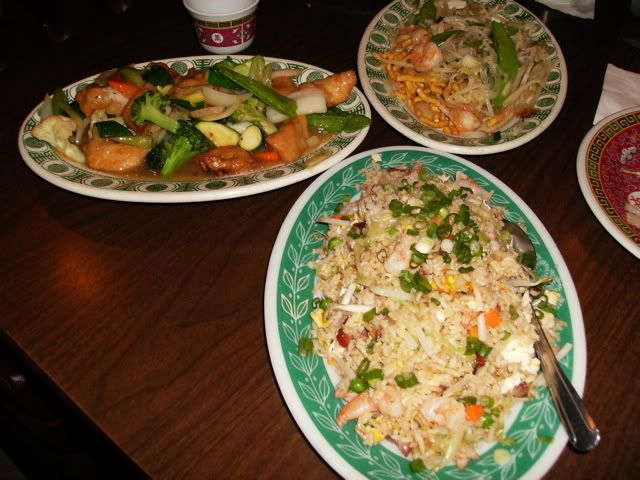 Sheila had mentioned fried rice, and that dish was piled high and covered with diced green onion, just the way I love it.


The chow mein was made in the old Cantonese style and was the best I'd had in years. Instead of limp noodles, the dish was filled with shrimp and crisp bean sprouts and other vegetables. I've lived in six states and I've never had better.


He also brought his Wing's special, sautéed chicken tenderloins with mixed vegetables in a light sauce. I loved the delicate flavor and could taste the broccoli, pea pods, zucchini, and onions. The chicken was especially good, generously cut and all white meat. He only uses chicken breast tenders, Wing explained.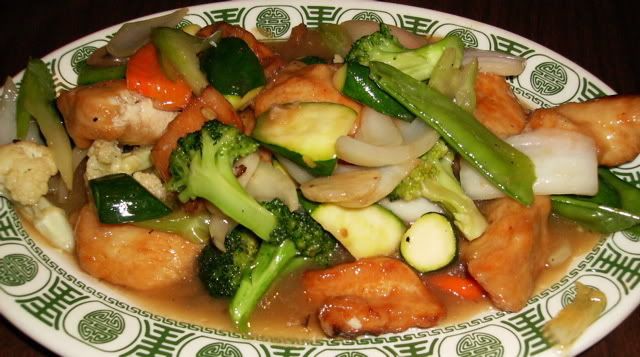 They also have family dinners, Number 1, 2 or 3, from $8.25 per person to $9.25, depending on which one you choose. Some of the selections are almond chicken chow mein, fried shrimp, fried rice, sweet and sour pork, and egg roll.
When Sheila and I finished dinner, we had no room for desserts, but Wing's has them. Maybe another time I'll try a sundae or a dish of ice cream or sherbet. I just know I'll be back. The food is worth it.
Wing's Garden Cafe
116 W. Ramsey Street
Banning, CA
(951) 849-2914